System Sync
System Sync enables two Ways or bidirectional Sync to maintain the configuration in the system (system database) and Git repository sync. Any configuration changes performed in the Git repository get reflected in the system, and vice-versa is supported. To achieve this bidirectional sync, external and internal triggers are required. External triggers (Pipeline Triggers) notify whenever resources are modified in a Git repository, and internal triggers notify whenever resources are modified in an internal artifact store
---
Pre-requisites¶
System Sync Stage requires the below setup to complete the sync successfully
Github Repository
User should create a valid Git repository
Update the created repository in the Respositories page with an appropriate name
GitOps Agents
Create GitOps Agents and associate with the K8s Cluster for secured connectivity to the repositories
Git Repo used for System-Sync must be associated with the GitOps agent. This helps to access the repositories available in the private network
---
System Sync Operation¶
This stage is responsible for resource config sync between Git Repository and the system
Provide a friendly name for the stage
Select System Sync
To sync the resource specification from Git Repository to System, select Git To System Sync checkbox
Select the Repository from where the resource details are to be cloned
Provide the Tag/Branch of the repository
Provide the appropriate Folder path of the repository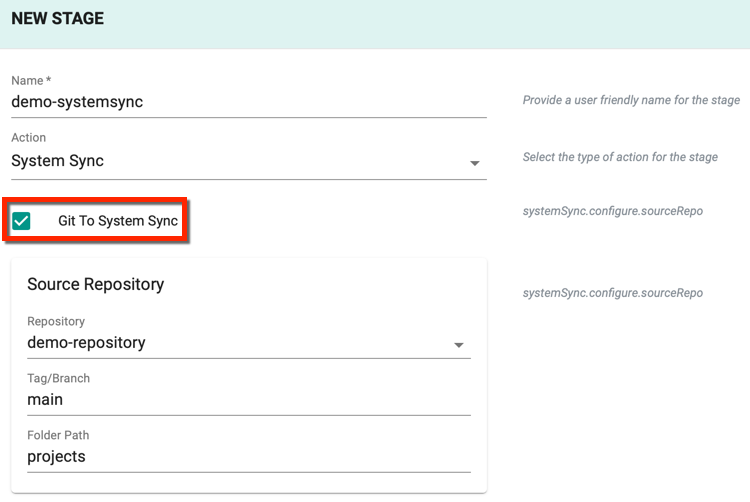 To sync the resource specification (updated through Controller) from system to Git Repository to System, select System To Git Sync checkbox
Select the Repository to which the resource details must be synced
Provide the Tag/Branch of the repository
Provide the appropriate Folder path of the repository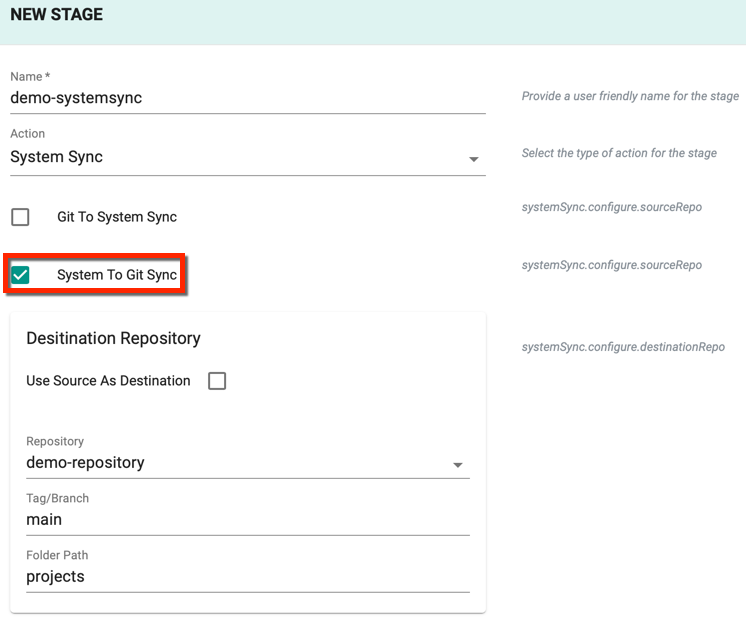 Select Use Source As Destination checkbox to use the same source destination (or) uncheck this option to provide a different (system or repo) destination
---
Include / Exclude Resources¶
Include Resources allows the users to add all the resources or add only the required resources anytime. Click Add Resource to include one or more resources. This operation sync only the selected resource(s) in Git Repository and System. Below are the supported resources
Add-On
Blueprint
Overrides
Workload
Workload Template
Namespace
Pipeline
Infrastructure Provisioner
GitOps Agent
Repository
Secret Sealer
Secret Store
OPA Constraint Template
OPA Constraint
OPA Policy
Overrides
By default, All Resources are selected from the drop-down
Exclude Resource allow the users to remove the resource(s) anytime. Click Add Resource to exclude one or more resources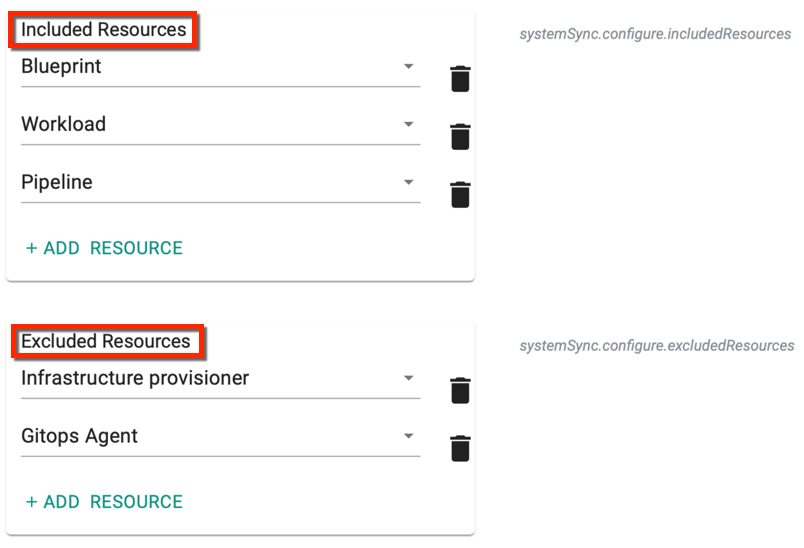 Pre-Conditions (Optional)
Stages can be configured to execute ONLY if the expression matches the specified pre-conditions
Stage Variables (Optional)
All the variables available for a given stage are fetched as a sorted list according to their scope (Organization -> Project -> Pipeline -> Trigger -> Stage). These variables are evaluated with the environment. The environment is then updated with the variable according to their scope
Click Save to add the system sync stage to the pipeline or Cancel to abort the process. Click Save and Go To Triggers to complete the sync process and trigger the changes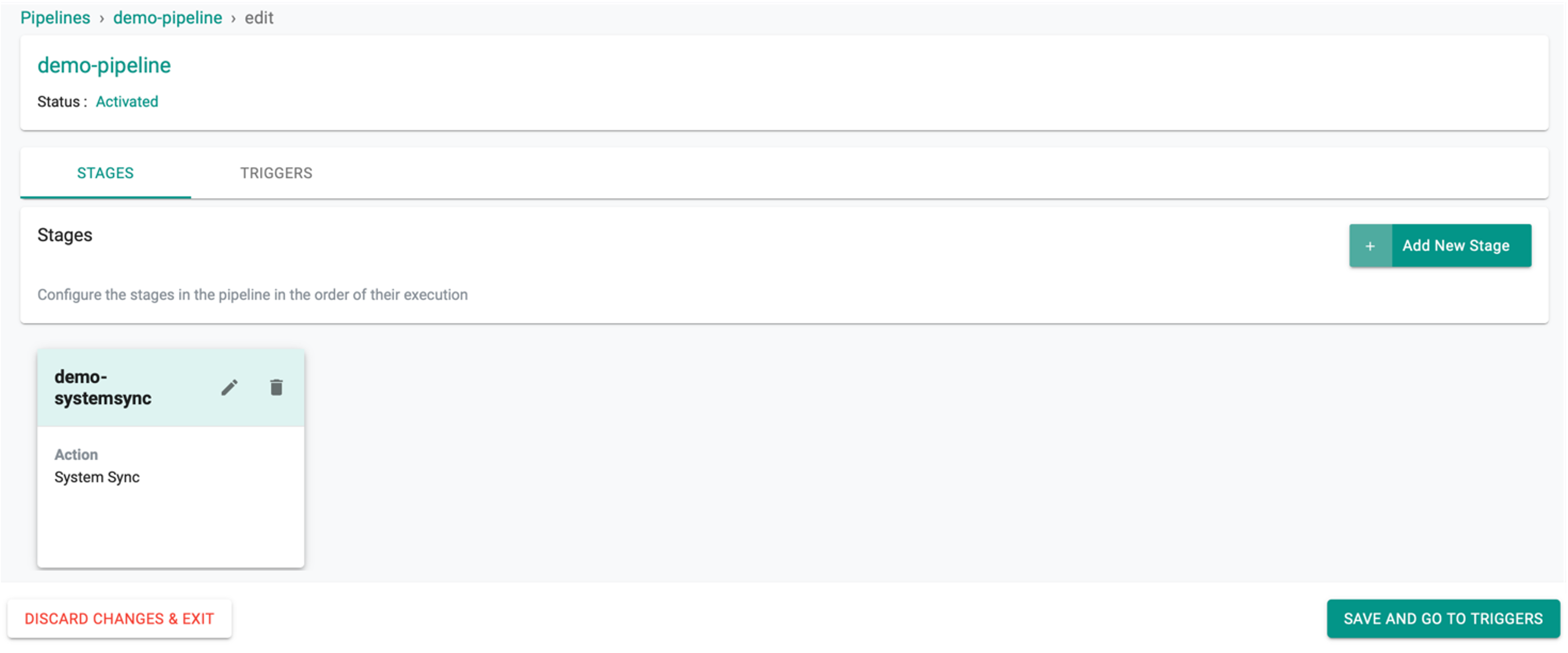 Refer Triggers for more information
---
Success System Sync¶
The System Sync job begins automatically in the pipeline. The initial status is In Progress, later changes to Success. Use the Run button to trigger the pipeline for the changes performed manually in the system

Users can view the recently triggered changes on the Triggers page. Also, this creates a pipeline in Git Repo with all the selected resources in the specified project. Below is an example of defaultproject and the list of included resources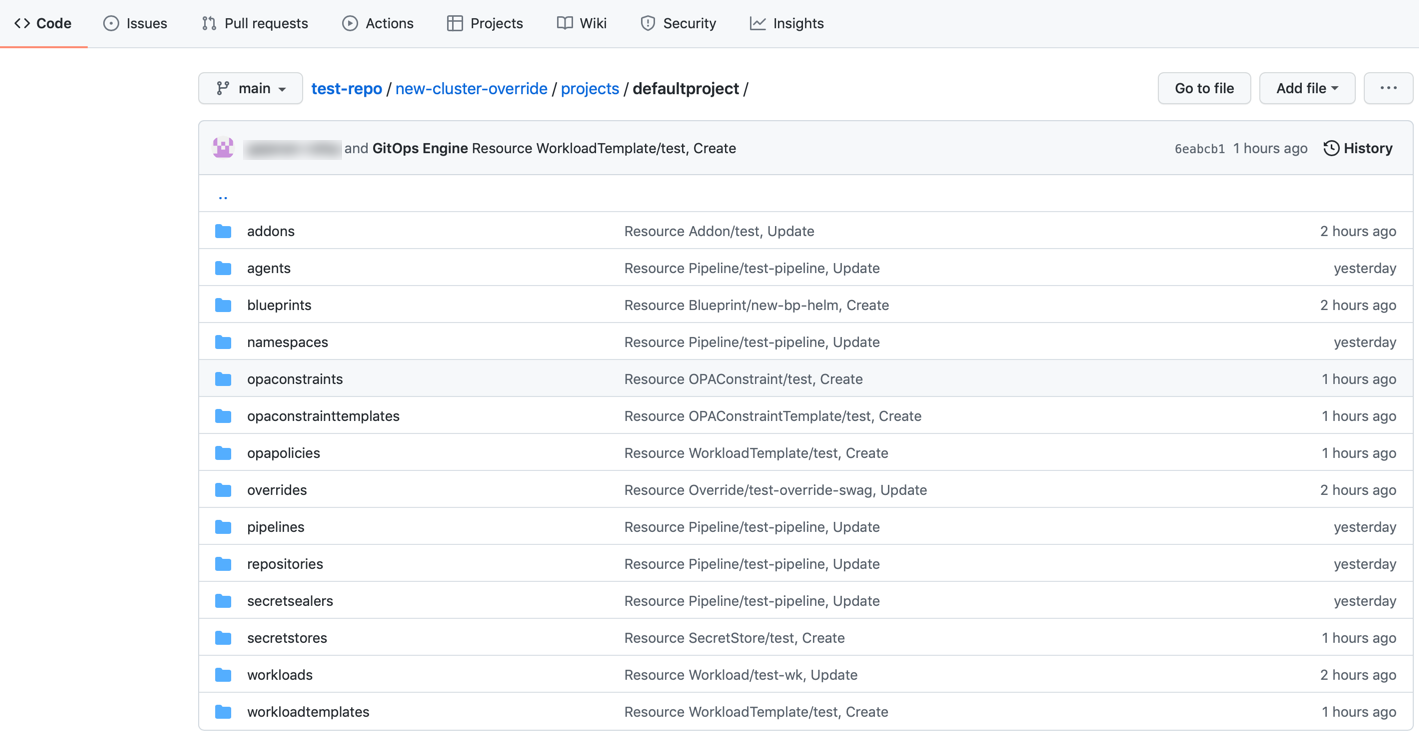 Below is an example of the add-ons resource in Git Repository where the users can view or update the resource specs based on the selected direction during system sync stage creation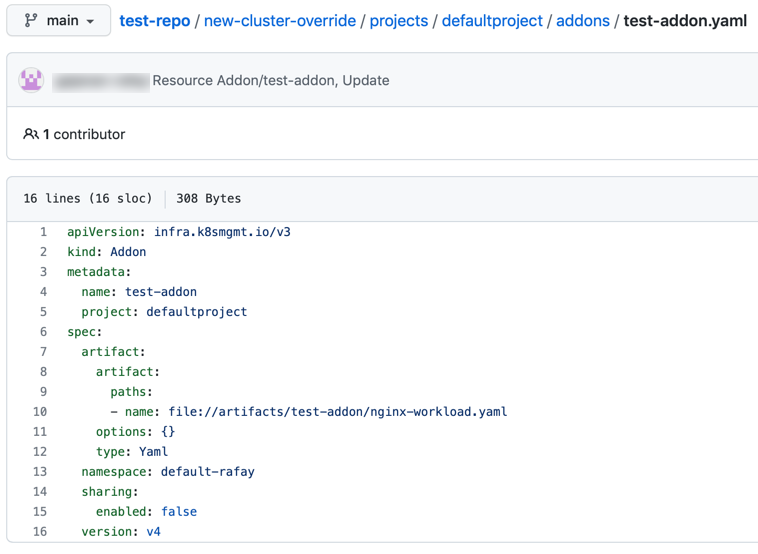 Important
When a resource contains a secret value/key, the system sync fails for that specific resource, but continues with the other resources. Currently, Infrastructure Provisioners is the only resource that can contain a secure text. Refer Secret Sealer on how to configure secrets for Infra Provisioners.
Refer Infrastructure Provisioners for more details on Infrastructure Provisioners configurations
---
System Sync Output¶
On a successful run, select the job and click Output to view any updates/modifications triggered recently within the system. Below is an example of the resource updates triggered internally in the controller.

Event Payload
Click Event Payload to view in which resource the changes are performed, user id, type of operation, etc.
The changes performed internally through the controller, i.e., System To Git Sync, the Trigger type in the controller is Internally Triggered
The changes performed externally through Git repository, i.e., Git to System Sync, the Trigger type is Webhook
Manually running the job after a change using the Run icon, the Trigger type is Manually Triggered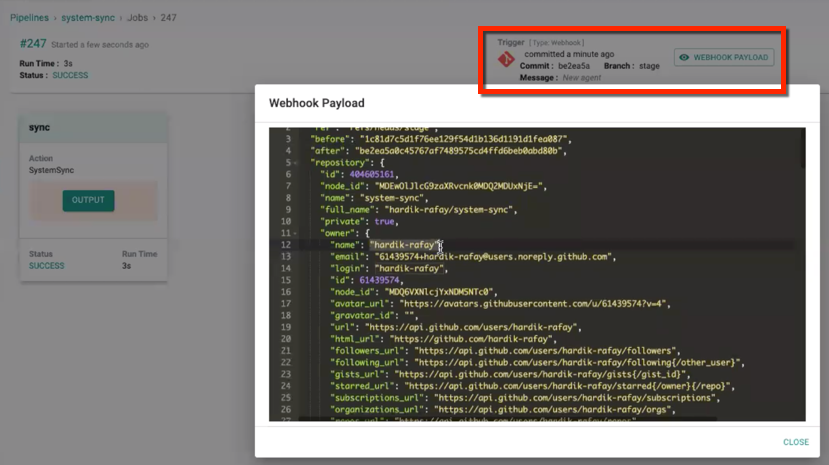 ---
System Sync Pipeline Sharing¶
Users can share a system sync pipeline with All Projects/Specific Projects/None. When sharing the system sync pipeline and any resources containing a secret value/key, system sync fails for that specific resource and proceeds with the other resources
Users can also create a new project in Git Repository and use the existing pipeline of any project
---