Key Concepts
Rafay Org¶
Every customer is provisioned with one or more Rafay Organizations (Orgs i.e. Tenant). They have access to the Rafay platform via two distinct views aimed at different roles (Application vs Operations) in a typical organization.
Customers can access all their Orgs through the same URL and seamlessly switch between their Orgs as well via an Org Switcher.
Important
It is strongly recommended that customers have at least "two" Organization Admins. This will ensure that there is a second admin user that can perform privileged actions in case the first admin is unavailable or locked out.
---
Switching between Orgs¶
Customers that have been provisioned with multiple Rafay Orgs can switch between Orgs via a built in "Org Switcher".
In the "Rafay Console", on the top right, click on your email address.
Click on "Change Organization".
You will be shown this only if your email address is associated with "multiple Orgs".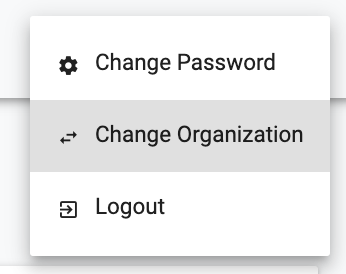 Select the Rafay Org you wish to switch to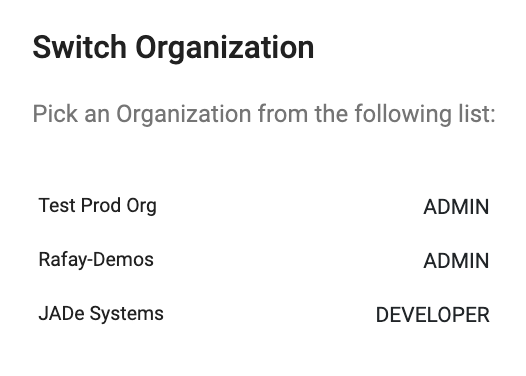 ---
Rafay Console¶
The Rafay Console is designed with both Infrastructure (Operations) and Application Owners (Developers etc) roles in an Organizaiton.
The Rafay Console can be accessed via a Web console, the Rafay CLI and programmatically via REST APIs.
---